Peanut Butter Valentines Hearts with Rice Krispies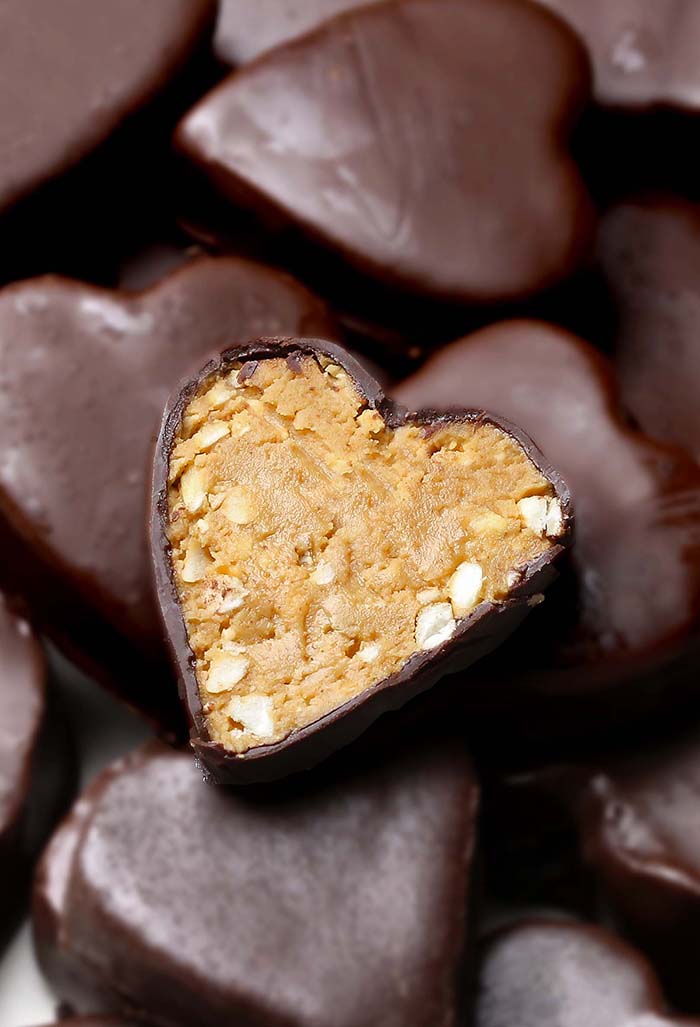 1 cup creamy peanut butter
2 Tbsp melted butter
1 cup powdered sugar
1½ cup crushed crisped rice cereal( measure out then crush)
1½ cup chocolate chips
Mix peanut butter and melted butter together in a large bowl.
Add powdered sugar and rice krispies. Mix until combined.
Line 8 x 8 inch dish with parchment paper, let the paper overhang the sides for an easy lift later.
Pour the PB mix into dish, and press into about ½ inch thick layer.
Chill until firm (15-20 minutes in the freezer should do it).
Cut hearts from the PB mix with cookie cutters. The 1.5 inch cutter makes a bite size treat and the 2.25 inch cutter makes a treat similar in size to a Reese's.
Re-roll the scraps of PB mix and cut more hearts. Place on a parchment paper lined cookie tray and chill in the refrigerator for at least 30 minutes before chocolate coating.
Melt chocolate in microwave by heating for 30 seconds then stirring and repeating process until it is melted and smooth.
Place a toothpick in each peanut butter heart and dip each into the chocolate and roll around until coated.
Place the chocolate coated heart on a separate cookie sheet lined with parchment paper.
Remove the toothpicks from each peanut butter heart.
Place the hearts back in the freezer to let the chocolate set. It should take an hour or two.
Best to store these in the freezer as well. If you store these in the fridge, they will become slightly soft.
Recipe by
Cakescottage
at https://cakescottage.com/2018/12/13/peanut-butter-valentines-hearts-with-rice-krispies/