Heart Shaped Chocolate Raspberry Cakes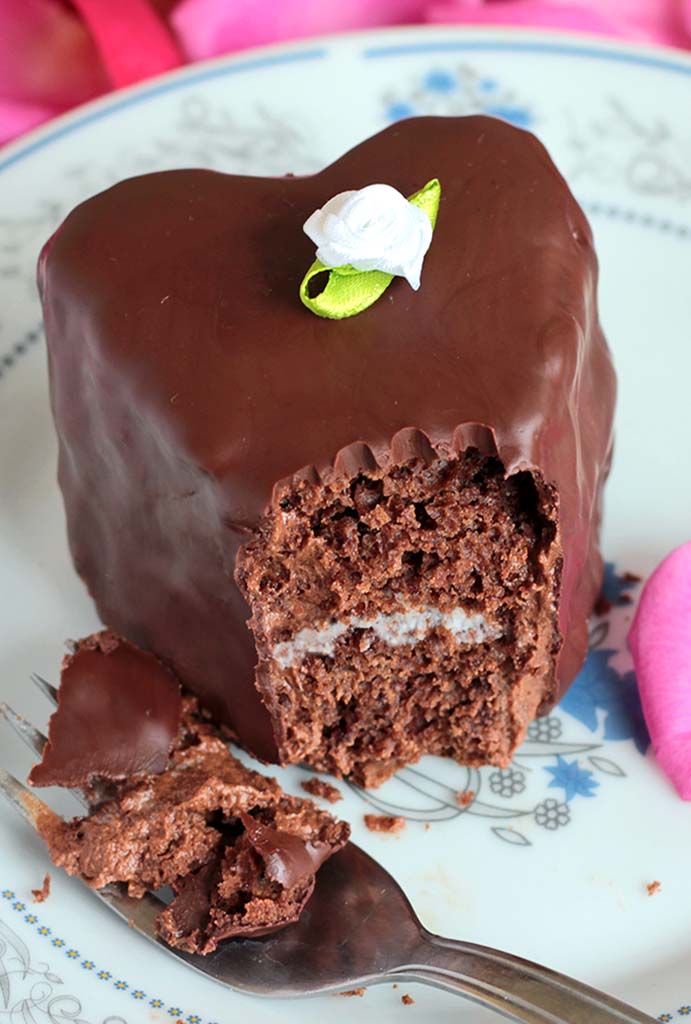 Author:
CakesCottage - adapted from Cooking Channel
CAKE
2¾ cups all-purpose flour
1⅛ cups cocoa powder
1½ cups buttermilk
1 teaspoon baking powder
2¼ teaspoons baking soda
1½ teaspoons salt
3 cups granulated sugar
2 teaspoons vanilla extract
3 large eggs
¾ cup vegetable oil
RASPBERRY CREAM
1 cup heavy cream
3 tablespoons raspberry preserves
CHOCOLATE GANACHE
1 pound bittersweet chocolate
1 cup heavy cream
½ cup milk
2 tablespoons corn syrup
½ cup apricot jam
CAKE
:Set a rack in the middle level of the oven and preheat to 325 degrees and line two jelly roll pans with parchment.
Sift together flour, sugar, cocoa powder, baking powder, baking soda, and salt in a large bowl.
In a medium bowl, Whisk together, eggs, buttermilk, oil and vanilla until well combined.
Pour wet ingredients into the dry ingredients and whisk to combine.
Carefully pour batter into prepared pans and bake 20 minutes,
or until a toothpick inserted into the center of the cake comes out clean.
Cool completely. Using a heart shaped cookie cutter, carefully cut out hearts, trying your best to cut hearts as close together as possible.
Depending on the size of your cutter this will get you about 10 2-layer cakes per sheet.
RASPBERRY CREAM:
In a heavy saucepan whip the heavy cream until soft peaks, add the raspberry preserves and continue whipping until stiff peaks.
Fill a pastry bag, fitted with a round pastry tip and pipe the cream on half of the heart shaped
cakes. Top the cream with another layer of cake.
GANACHE CHOCOLATE:
Finely chop chocolate.
In a small saucepan over medium-low, heat the strained apricot jam until melted.
Add the cream, milk and corn syrup and heat just to simmer.
Remove from the heat. Add all the chopped chocolate,
Make sure the chocolate is completely covered by the cream,
and let sit for about 3 minutes and then gently whisk until smooth.
Place about 1 cup of the chocolate ganache in the refrigerator for about 10-15 minutes or until slightly firm, but still spreadable.
Leave the remainder of the ganache in the pot to keep it pourable.
Fill the gap between the layers of cakes with refrigerated ganache using a small spatula, your goal is to make them smooth.
Now place the cakes on a cooling rack over a pan lined with parchment.
Slowly pour the ganache over the cake, starting in the middle and working outward. Be sure to check all the sides as you go.
If your ganache starts to get too thick, return the pot to the stove and heat on very low heat,
just for a few seconds.
Allow the cakes to set at room temperature for about 20 minutes.
Recipe by
Cakescottage
at https://cakescottage.com/2015/01/20/heart-shaped-chocolate-raspberry-cakes/