Apple Walnut Streusel Bread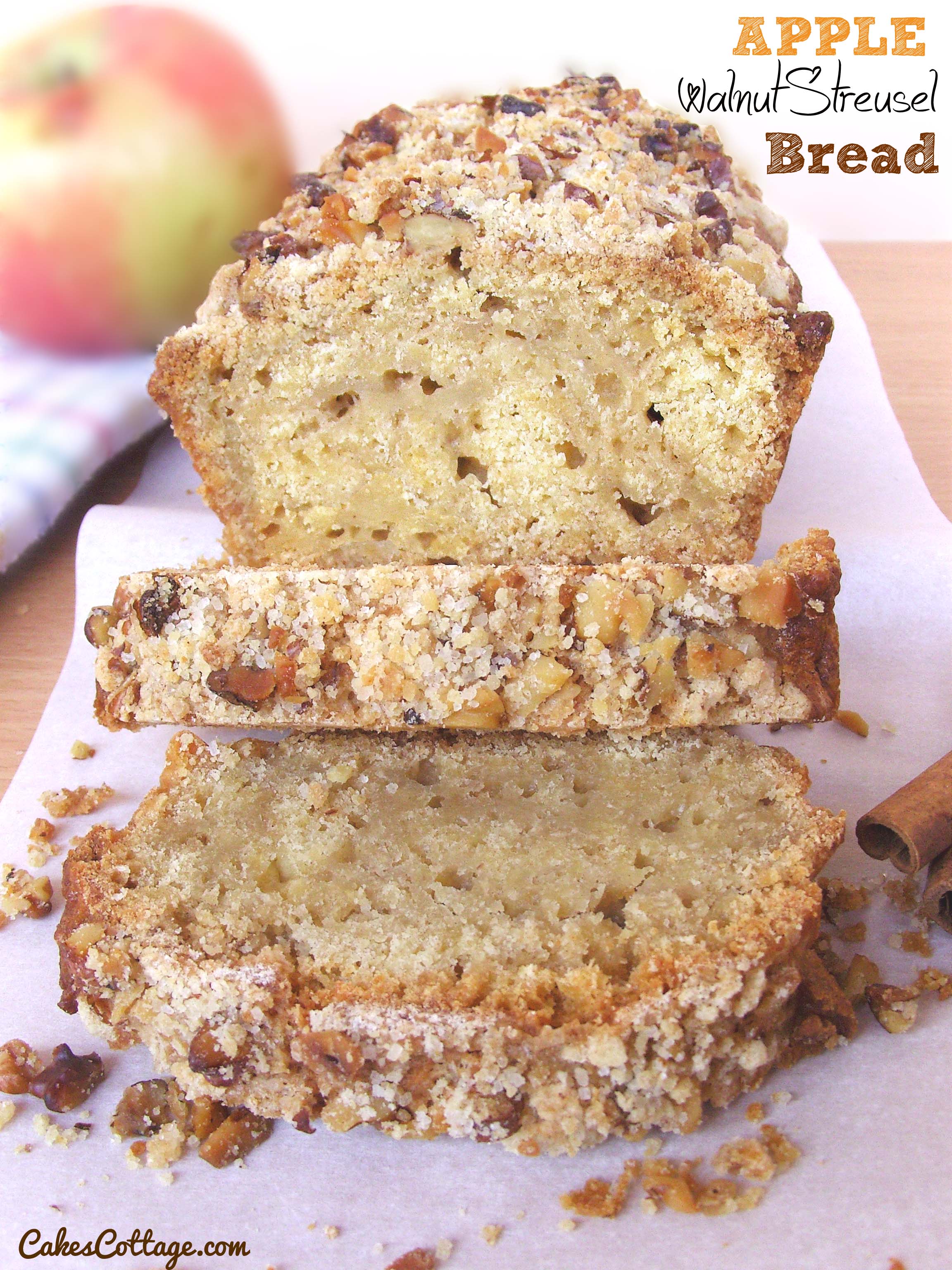 Recipe type:
Bread - Breakfast
½ cup butter, softened
½ cup granulated sugar
½ cup packed brown sugar
2 eggs
2 teaspoons baking powder
1 teaspoon vanilla extract
¼ cup 1% milk
2 cups (peeled) shredded apples (I used 3 big)
2 cups all purpose flour
½ teaspoon salt
1 teaspoon cinnamon
Streusel – Nut Topping
¼ cup packed brown sugar
¼ teaspoon cinnamon
3 tablespoons flour
2 tablespoons cold butter
½ cup walnuts or pecans, chopped
Preheat oven to 350 degrees.
Line an 9x5x3 inch loaf pan with parchment paper or aluminum foil allowing excess foil to hang over pan edges, and lightly grease with cooking spray. Set aside
Cream butter and sugars in a large bowl.
Add the milk, eggs, vanilla and apples and mix on low speed until combined.
In a medium bowl, combine the flour, baking powder, salt, and cinnamon.
Add the dry ingredients to the apple mixture on low speed until combined.
Spoon batter into prepared pan and spread evenly.
In a small mixing bowl, combine the brown sugar, flour and cinnamon.
Using a pastry blender or fork cut in the butter until it resembles coarse crumbs.
Add the walnuts and stir well. Sprinkle the streusel over the bread batter evenly.
Bake for 60-70 minutes or until a wooden toothpick inserted near the center comes out clean.
Let stand for 10 minutes, then using the foil overhang, lift the bread from the pan and transfer to a wire rack and leave to cool completely before foil removing.
Wrap and store overnight before slicing. (Or you know, eat it as soon as it's cool enough - recommended lol ).
Recipe by
Cakescottage
at https://cakescottage.com/2014/03/12/apple-walnut-streusel-bread/