No Bake Chocolate Raspberry Dessert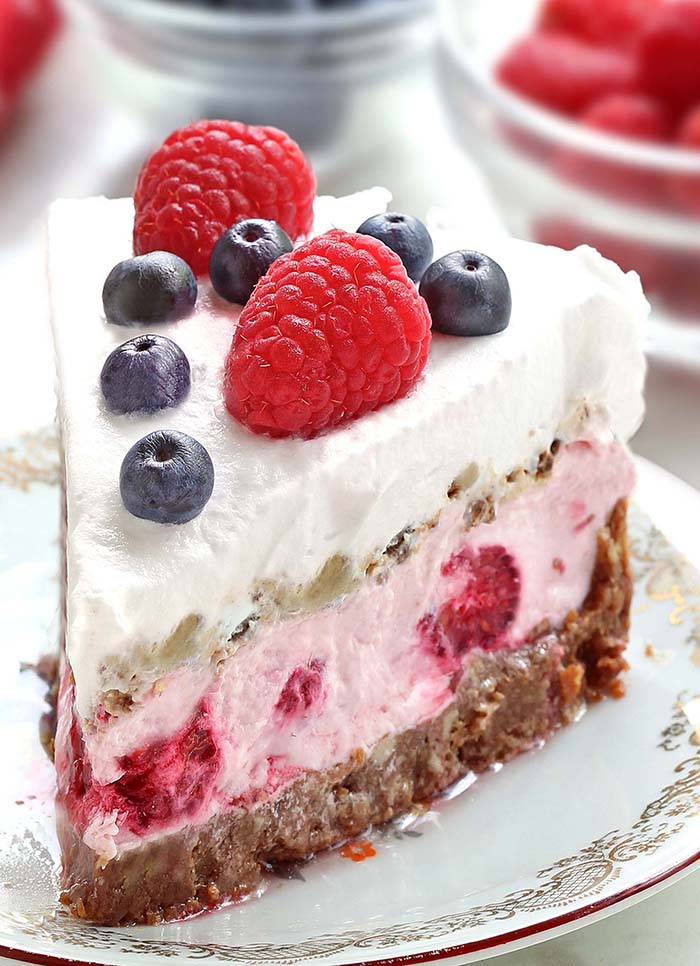 24 chocolate chip cookies (such as Chips Ahoy), crushed, divided
6 tablespoons unsalted butter, melted
1½ cups fresh raspberries, divided
4 containers (4 oz each) raspberry yogurt
1 carton (8 ounces) frozen whipped topping, thawed
1 cup fresh blueberries
Crush 18 of the cookies into fine crumbs, and the remaining 6 to ¼ inch crumbs.
In a small bowl mix fine cookie crumbs with melted butter.
Press cookie crumbs/butter mixture into a greased 9 inch springform pan to form a crust and refrigerate.
In medium bowl fold ½ cup raspberries into yogurt and spread evenly over the crust.
Sprinkle remaining cookie crumbs over yogurt mixture.
Carefully spread whipped topping evenly over cookie crumbs.
Freeze 4 to 5 hours or until firm. Remove sides of pan.
Top with blueberries and remaining raspberries. Store in freezer.
Recipe by
Cakescottage
at https://cakescottage.com/2018/05/24/no-bake-chocolate-raspberry-dessert/