Creamy Sun Dried Tomato Chicken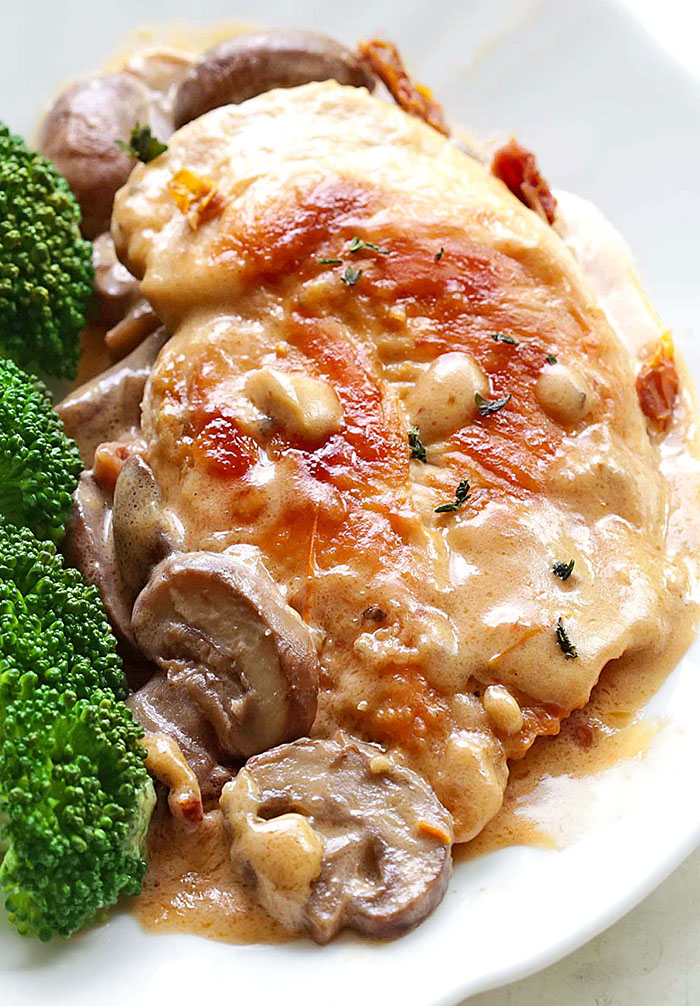 2 large boneless and skinless chicken breasts , halved
2 Tablespoons oil from oil-packed sun-dried tomatoes, or olive oil, divided
Salt and black pepper to taste
3 garlic cloves, minced
¼ cup dry white wine or chicken broth
¼ cup chicken broth
⅓ cup whipping cream
1 cup mushrooms, sliced
¼ cup oil-packed sun-dried tomatoes, drained and thinly sliced
3 Tablesppons fresh basil, thinly sliced or 1 teaspoon dried basil
* ⅓ cup fresh Parmigiano Reggiano
Sprinkle chicken with salt and pepper.
Heat 1 Tablespoon of oil in a heavy medium skillet over medium-high heat.
Add chicken to skillet and saute until golden, about 5 minutes per side.
Remove from pan and cover with aluminum foil to keep warm.
Add remaining 1 Tablespoon of oil, garlic and stir 30 seconds.
Then add mushrooms and sun-dried tomatoes, cook for 2-3 minutes, until the mushrooms are just soft, stirring frequently. Add wine, chicken broth, and cream.
Reduce heat to medium-low, cover skillet, and simmer until sauce thickens enough to coat spoon, about 4-5 minutes.
Season sauce to taste with salt and pepper. Spoon over chicken and sprinkle with the fresh basil.
Serve with steamed Broccoli and/or freshly shaved Parmigiano Reggiano.
Recipe by
Cakescottage
at https://cakescottage.com/2018/02/06/creamy-sun-dried-tomato-chicken/