No Bake S'mores Icebox Cake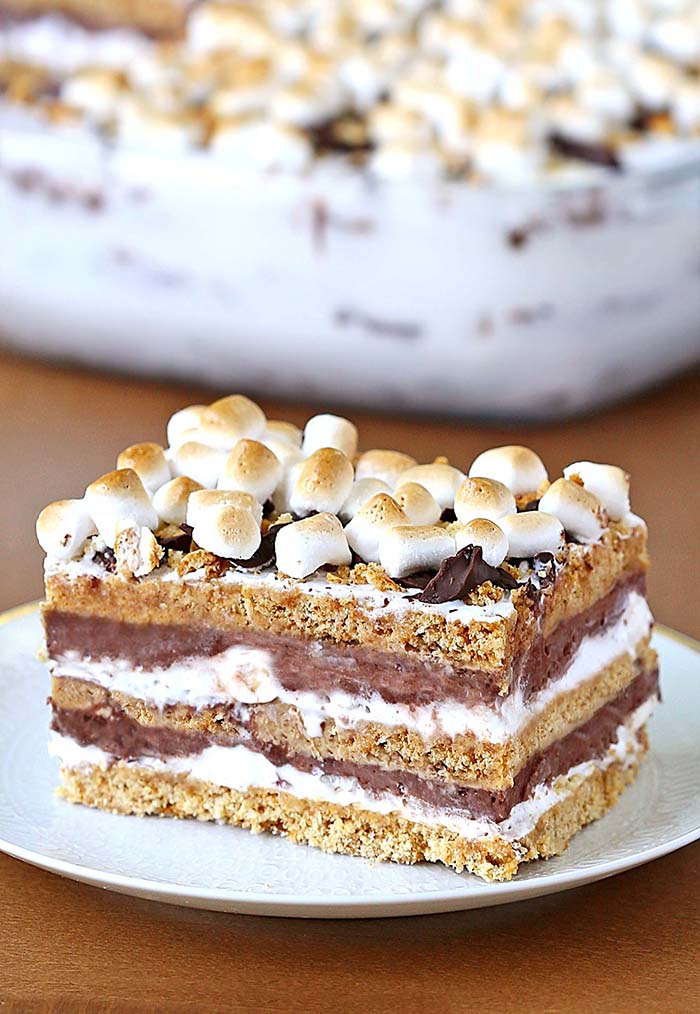 1 box graham crackers (approx 3 sleeves)
4 cups heavy cream, divided
2½ cups semisweet chocolate chips
1½ Cups marshmallow creme (approx 1.5 small jars)
2 cups Mini Marshmallows, divided
Chopped chocolate, for garnish
Beat 3 cups of heavy cream until stiff peaks form, about 5 minutes. Add marshmallow crème and keep beating for 3 minutes. Fold in 1 cup of the miniature marshmallows and set aside.
Heat remaining heavy cream until simmering. Remove from heat and pour over chocolate chips in a heat-proof bowl.
Let sit 5 minutes, then stir until combined and creamy. Set aside to cool until mixture is lukewarm. If the mixture is too runny place it in the fridge briefly to set before assembling the cake.
Spread a thin layer of marshmallow mixture in a 9x13 pan just to coat the bottom.
Layer 5 graham crackers across the center of the pan, then 2 more, breaking them as needed to fit around the top and bottom edges.
Spread a layer of marshmallow mixture over grahams and top with a layer of chocolate ganache.
Repeat the graham-marshmallow-chocolate layers 1 more time.
Place graham crackers on top of chocolate ganache layer, then remaining marshmallow mixture, and you should reach the top of the pan.
Refrigerate for at least 4 hours or overnight until the graham crackers have softened completely.
When ready to serve, heat broiler. Garnish cake with remaining mini marshmallows, graham cracker crumbs and chopped chocolate.
Broil 1 minute to toast marshmallows.
Recipe by
Cakescottage
at https://cakescottage.com/2017/06/11/no-bake-smores-icebox-cake/