Pumpkin Roll with Cream Cheese Filling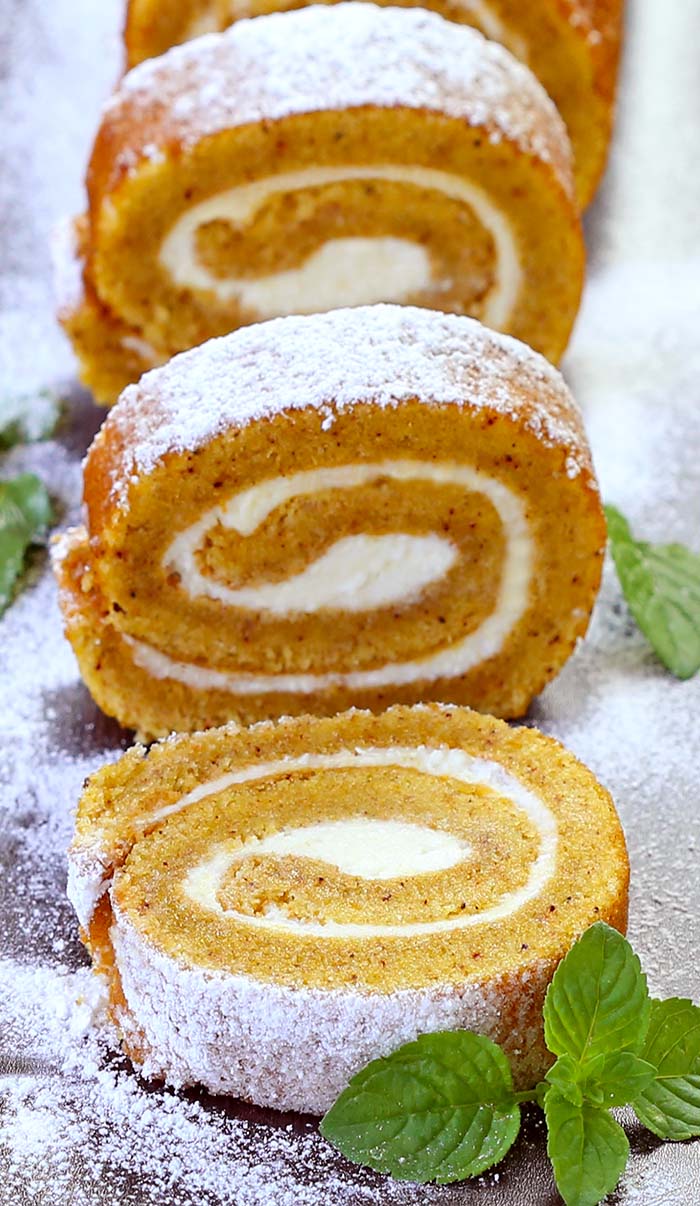 ¾ cup all-purpose flour
½ tsp baking soda
½ tsp baking powder
2 tsp pumpkin pie spice
¼ tsp salt
3 eggs, room temperature
1 cup granulated sugar
⅔ cup pumpkin puree
1 tsp vanilla extract
¼ cup powdered sugar (to sprinkle on towel) plus more for garnish, if desired
8 oz. cream cheese, softened
1 cup powdered sugar, sifted
6 Tbsp. butter, softened
1 tsp. vanilla extract
Heat the oven to 375 degrees.
Line a 15x10 inches pan with baking paper and grease it with cooking spray.
Put cotton kitchen cloth or towel on the table and sprinkle it with powdered sugar.
Mix the flour, baking powder, baking soda, pumpkin pie spice and salt in a bowl.
In a large bowl, mix the eggs and sugar until they blend. Add in vanilla and pumpkin puree and mix until well combined.
Add flour mixture, blend and spread evenly into the prepared pan. Bake for 11 to 13 minutes, or until top of cake springs back when touched.
Roll over the cake on the kitchen cloth and peel off the baking paper.
Carefully roll the cake with the cloth/towel, starting with narrow end and leave it to cool.
During this time, in a large mixer bowl, whisk cream cheese, powdered sugar, butter and vanilla extract until it becomes smooth.
Carefully unroll the cake. Spread the filling over and roll the cake again.
Wrap it in a plastic foil and leave it in the fridge for 1 hour.
Garnish with powdered sugar.
Slice to serve.
Recipe by
Cakescottage
at https://cakescottage.com/2016/08/21/pumpkin-roll-cream-cheese-filling/