Carrot Cake with Cream Cheese Frosting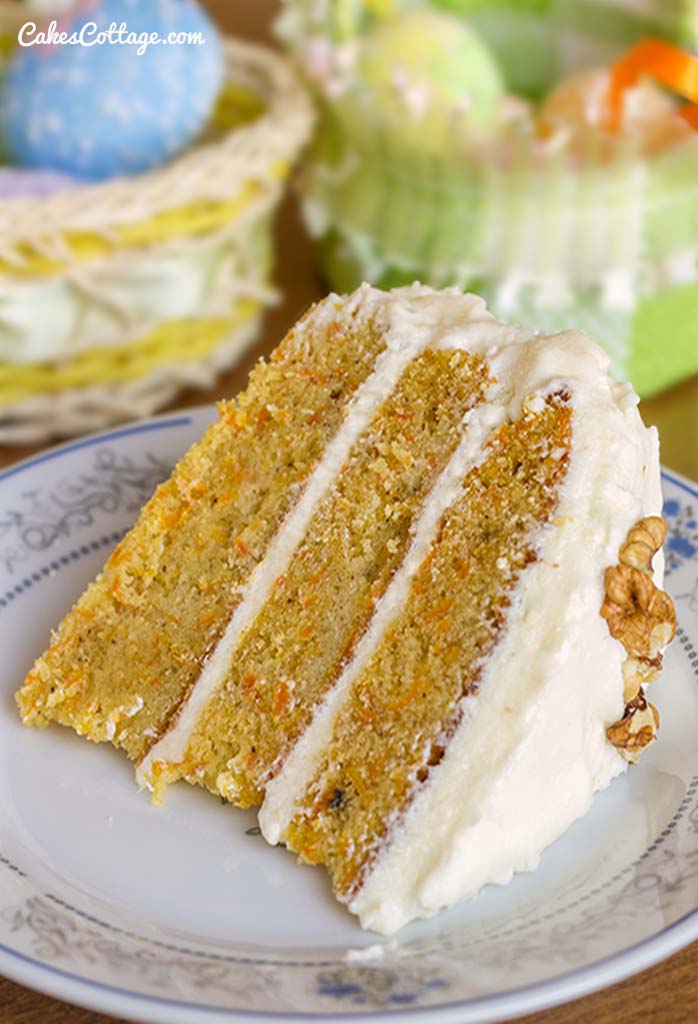 CARROT CAKE INGREDIENTS:
3¼ cups flour
1½ cups vegetable or canola oil
2 cups sugar
6 eggs
1 Tbsp. vanilla extract
2 tsp. ground cinnamon
2 tsp. baking soda
2 tsp. salt
1 tsp. baking powder
½ tsp. ground nutmeg
pinch of ground cloves
2 cups grated carrot
1 (8-ounce) can crushed pineapple, drained
1 cup chopped pecans or walnuts(i use pecans)
CREAM CHEESE FROSTING INGREDIENTS:
3 8 oz. cream cheese, room temperature
1 cup (2 sticks) unsalted butter, room temperature
1 Tbsp. vanilla extract
½ tsp. salt
6 cups powdered sugar
CARROT CAKE
Preheat oven to 350 degrees.
Line with parchment paper, then butter and flour 3 (8-inch) round cake pans.
Beat the sugar, oil, and eggs together in the bowl of an electric mixer fitted with the paddle attachment until light yellow.
Add the vanilla.
In another bowl, sift together flour, cinnamon, baking soda, salt, baking powder, nutmeg and cloves until just combined
Add the dry ingredient mixture to the mixing bowl, and beat on medium-speed until just combined, scraping down the pan at least once to be sure that everything is well mixed.
Then fold in the grated carrots, pineapple and pecans by hand and stir until combined.
Divide the batter between the prepared pans and smooth the tops.
Bake until the layers are firm and risen and the tip of a paring knife inserted in the center of the cake emerges clean, about 25-30 minutes.
Remove pans and let them cool on a wire rack until the cakes reach room temperature.
Let the cake layers cool completely.
CREAM CHEESE FROSTING
In the bowl of a stand mixer fitted with the paddle attachment, combine the cream cheese and butter and beat on medium until smooth, 30 seconds to 1 minute.
Add in vanilla extract and salt, and continue mixing until combined.
Lower speed to medium-low and gradually add in powdered sugar.
Increase speed to medium-high and beat until well combined.
If frosting is too thick, you can add in a teaspoon or two of water.
If it is too thin, you can add in more powdered sugar.
Layer the cakes with the cream cheese frosting, and decorate with walnuts or pecans.
Serve that day or store, covered, for up to 4 days.
Recipe by
Cakescottage
at https://cakescottage.com/2015/02/25/carrot-cake-cream-cheese-frosting/