Loaded Baked Potato Salad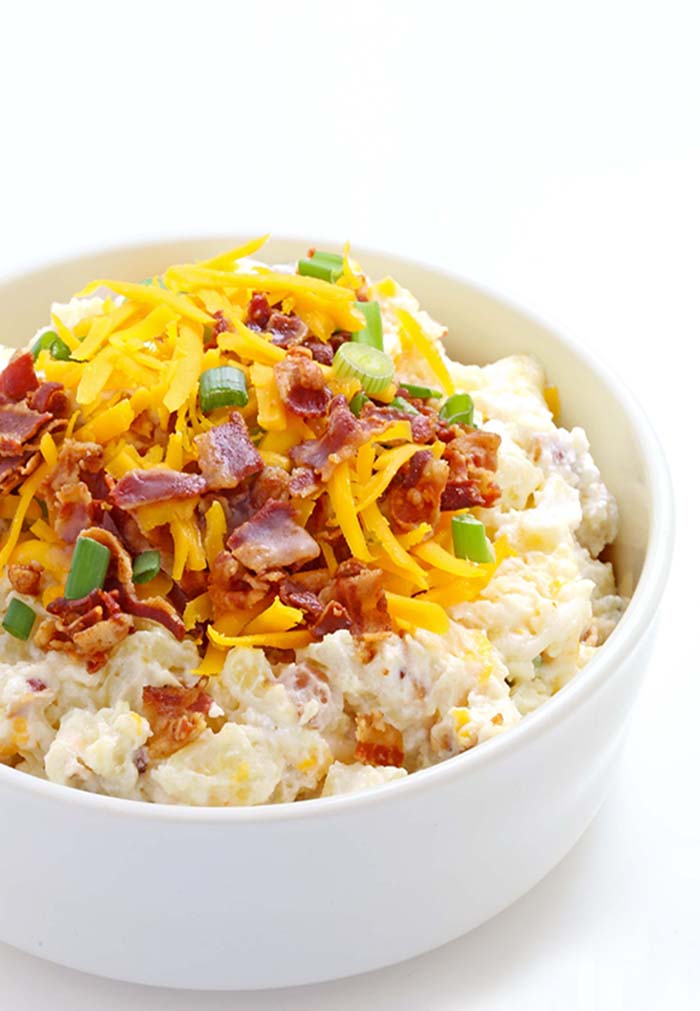 5 pounds unpeeled russet, gold, or red potatoes, medium sized
1-2 tablespoons of olive oil
1 pound sliced bacon, cooked and crumbled
4 green onions, trimmed of the root ends, halved, and thinly sliced
6 ounces shredded Cheddar cheese
1 cup sour cream
½ cup mayonnaise, plain or greek yogurt
Salt and pepper to taste
Preheat oven to 375 degrees F.
Wash the potatoes and poke holes in them with a fork.
Place the cleaned potatoes on an aluminum foil lined baking sheet and lightly coat with olive oil.
Bake for 50-60 minutes or until fork tender. Remove from the oven and let cool.
Remove the skins and cut the potatoes into bite sized chunks and place in a large mixing bowl.
Reserve 2 tablespoons each of the crumbled bacon and grated cheese, and a teaspoon of the sliced green onions for garnish.
In a small bowl mix the mayo/greek yogurt and sour cream together.
Add to the potatoes, then add the remaining onions, bacon, and cheese. Gently mix until fully combined. Salt and pepper to taste
Serve immediately or refrigerate for up to two days, garnishing right before serving.
Recipe by
Cakescottage
at https://cakescottage.com/2016/04/14/loaded-baked-potato-salad/